How to Embrace Hybrid Work
During the next three to six months, companies will continue evaluating whether to bring employees back to the office full-time or to embrace a hybrid work environment.

With hybrid workforces, U.S. business leaders have the chance to make workplaces more inclusive and meaningful for all individuals, not just a small, select group. How organizations embrace remote onboarding, employee development, flex workspaces, virtual coffee connections, and staff meetings will dramatically shift the way they create belonging and foster engagement.
Many of your employees are realizing the improvement in their quality of life — from not having to deal with the stress of a commute — which in some urban areas could be upwards of two hours each way — to spending time with family, preparing healthy home-cooked meals, taking walks after dinner. It's called work-life balance. Organizations can no longer define themselves by their physical location – cool office space and office culture. Companies and leaders will need to prioritize creating a culture of inclusion, by investing in their people and focusing on ways to connect their workforce with limited physical space and travel budgets to gather employees together.
How do we create a workplace where everyone feels a sense of equity, belonging, and inclusion?
Our innovative two-hour program 'Creating Inclusion and Belonging in the Hybrid Workplace' is built as a learning lab for the participants to answer questions to define what works best for their business and teams. Download Program Overview

---
Disconnected Employees? That can change…

Today, companies are investing in their existing and new talent at exponential rates. Their employees are working remotely, in different cities and countries, and having experiences they never did prior to the Pandemic.
The virtual and remote workforce has provided us an opportunity to rethink how we connect. A connection must be intentional to avoid higher employee turnover, disconnects, and unintentional barriers to team building and silos. The combination of the new virtual, remote, and in-person environments provides an opportunity for leaders to think differently about how their teams can "Get Connected". Well, we have a solution!
54% of employers worldwide said that attracting and retaining employees has rarely been more challenging – the highest in the decade. – Manpower Talent Survey
How can you get your new hires connected? How do you create connections and provide networking opportunities throughout the organization breaking down silos? What are some ways for ERGs to connect with their volunteers and other ERGs? How can leaders help their teams build better partnerships?
What it is
Get Connected is a fun and interactive 60-minute Zoom networking event designed to create connections and belonging within an organization.
Get to know colleagues and peers in ways beyond surface dialogue and pleasantries.
Get beyond trivial interactions into real, no-nonsense conversational exchanges.
Get to have fun networking, leaving the fear and anxiety behind, and focusing on meeting and connecting with colleagues in a new and unique way.
Excited to learn more and bring this into your organization, contact Nettie Nitzberg at Saterman Connect or use this link to set-up a time to talk.
---
Diverse Voices

In times of uncertainty and complexity, leadership is more important than ever. To take your own efforts up a level, explore Diverse Voices, a new series of exclusive interviews with leaders making the world a better and more understanding place. Live, every Wednesday at 12:15 EST.
In July/August we brought our listeners speakers who are passionate about all different aspects of professional coaching. :
Rini Fonseca-Sabune discussed how you can make your passion your full time job. The educator and coach explored with us how coaching improves work performance and relationships.
Jason Press, ICF Certified Coach, imparted his perspectives on coaching, reinvention and creating your own "personal brand."
Understand personal transformation >

Dawn Potter Sander leveraged her 25 years of experience developing leaders and shared how they can use strengths to unite their team.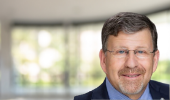 Gerald Hutchinson discussed executive coaching, and provided coaching guidance on strategies and tactics to help leaders embrace a growth mindset and succeed.
---
Navigating Upcoming Awareness-Heritage Months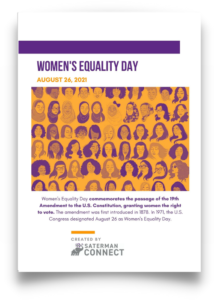 Women's Equality Day… August 26th: The Women's Strike for Equality was a strike which took place in the United States on August 26, 1970. In 1971, the U.S. Congress designated August 26 as Women's Equality Day (WED) which commemorates the passage of the 19th Amendment, granting women the right to vote.
If you have not seen or read one of our Resource Guides learn more about Women's Equality Day by downloading our WED Resource Guide which is celebrated on August 26th.
Download the Women's Equality Day Resource Guide →
Hispanic Heritage Month… begins next month
Hispanic Heritage Month is an official celebration of American Citizens whose ancestry traces back to Spain, Mexico, Central America, South America, and the Caribbean. It falls on September 15th and lasts till October 15th.
Sign up and Stay tuned for our Hispanic Heritage Month Resource Guide launching in September.