This is not just a book.
This is a learning journey.
No matter where you are on your leadership path, there's something in this book to empower any leader (that's you!). You may be arriving in your first manager role and preparing for your success. You may be driving and coaching your direct reports to deliver results as a high-performing team. You may be thriving in your senior leadership role, elevating your impact, and taking your organization to new heights. Wherever you are on your leadership journey ARRIVE. DRIVE. THRIVE.TM is for you.
Discover how this book will support and encourage you to unlock your unique leadership capabilities. Through storytelling, thought-provoking questions, proven processes, methodologies, and realistic workplace prompts you will explore how to ARRIVE. DRIVE. THRIVE.TM
How will you show up for yourself, your team, and your organization?
To learn more:
Check out our  ARRIVE. DRIVE. THRIVE.TM Leadership Academy
"ARRIVE. DRIVE. THRIVE. is a complete workbook and reference guide not just another leadership book. A go to resource for emerging leaders to be picked up and referenced over the course of your leadership journey."
"ARRIVE. DRIVE. THRIVE. is for the leader who is ready to do the work and wants to lead with equity and open-mindedness."
"I will refer to this book several times a week because with ARRIVE. DRIVE. THRIVE. your leadership toolkit is accessible to utilise in everyday life!"
"ARRIVE. DRIVE. THRIVE. is a great primer for aspiring leaders, a guide for emerging leaders, and a wonderful resource for senior leaders."
"ARRIVE. DRIVE. THRIVE. can help you transition not only yourself; it can help you transform your company, and more importantly, your future."
Our world is complex, changing rapidly, and leaders must be able to pivot quickly. No longer can a leader just have great technical skills, but in today's environment, leaders must also have strong critical skills. This dynamic and evolution takes time, dedication, support, and tenacity.
Leaders and organization's must be able to create environments that celebrate a person's dimensions of diversity enabling them to bring their full authentic selves to work. This creates a culture where individuals and teams are encouraged and valued for being innovative, thoughtful, and results-oriented, as well as recruiting, hiring, and retaining the best talent.
Leaders of today must be:
Agile.
Aware.
Honest.
Intentional.
Present.
Transparent.
Questions and Topics Addressed.
What are the differences between telling, teaching, and coaching?
How do I build a development or growth plan for myself and my team?
What are the differences between technical and critical skills?
What are key hallmark attributes to being a great leader?
How can I recruit, hire, engage, and retain the best talent?
How do I build a team and establish a leadership philosophy?
The ARRIVE. DRIVE. THRIVE.TM
Leadership Academy
2020 and 2021 caught many leaders off guard.  The world will continue to evolve and leaders need to be able to quickly pivot and lead within dynamic working environments. This also requires DEIB to be ever present within an organization's priorities.
Leaders can build on their unique experiences, establish new ways to grow, and open their minds to becoming stronger, more inclusive leaders.  How?
The Arrive. Drive. Thrive. Leadership Academy is a great place to start!
Arriving, driving, and thriving happens every day. No matter how long you've been a leader, there is always room to grow every day.  The ARRIVE. DRIVE. THRIVE.TM Leadership Academy was created to build all levels of people leaders wherever a person is in their leadership journey. 
Whether you are a part of a startup organization, mid-sized company, or large corporation, growing and developing your leadership pipeline is imperative to meet the current and future needs of your organization.  Organizations of today must invest in creating leaders who can adjust and stay agile as the needs of the workforce, workplace, and marketplace evolve.
Why not create a customized learning journey for your leaders over a 6, 12, 18 month and beyond time period? 
The Leadership Journey is a process that takes people leaders on an exploration from understanding Self to Building a High Performing Team.
There are three key stages that follow the Discovery process.
Arriving: Understanding yourself as a leader
Learning about ourselves and our teams through the Gallup CliftonStrengths® assessment, debrief- and team building workshops; and discovering your visible and invisible dimensions of diversity.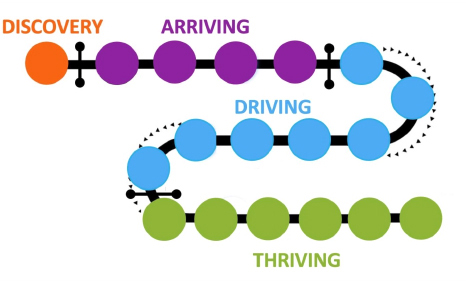 Driving: Delivering results with your team
An inclusive leader is able to identify micro-messages, interrupt microaggressions, successfully onboarding new hires, as well as, build and enhance core skills, knowledge, and competencies through effective communication (verbal and non-verbal communication, active listening, asking powerful questions), and coaching, delegation, and feedback to engage, grow, and retain team members.
Thriving: Elevating your impact
To be successful as an inclusive leader networking inside and outside the organization is imperative, as well as building your team through motivation and rewards, creating a winning culture, delivering value, aligning cross-functionally, and managing the growth of yourself and your team.